Not only can you enjoy the tranquil wilderness of the desert, but you can visit a fabulous UNESCO World Heritage Site and the snow-capped High Atlas Mountains.
In my opinion, the 5 Marrakech desert tours reviewed below are the best you will find. Also, see our best Marrakech Travel Guide.
If you go on the best desert tours from Marrakech, you can enjoy the warm hospitality of the Berber nomads, sleep in a tent out in the desert, and explore fascinating cultural sites that have attracted the attention of high-profile photographers and movie companies from all over the world.
Best Marrakesh Desert Tours
| | 3-DAY SAHARA DESERT TOURs FROM MARRAKESH TO MERZOUGA | MARRAKESH: 3-DAY DESERT ADVENTURE TO ERG CHIGAGA DUNES | 2-DAY DESERT SAFARI TO ZAGORA FROM MARRAKESH |
| --- | --- | --- | --- |
| | | | |
| | | | |
| Departure Point | Pick up from your hotel in Marrakesh | Pick up from your hotel in Marrakech | Hotel pick up in Marrakech |
| Departure Time | 7:30 AM | 7:30 AM | 7:00 AM |
| Duration | 3 days | 3 days | 2 days |
| Includes | Expert guide, air-conditioned minibus, 1-night hotel stay in Tinghir, 2 "camel" rides, 1-night camping in the desert, visits to Ksar Ait Benhaddou, Ouarzazate, the Todgna Gorges, the Rissani date market, and the sand dunes of Erg Chebbi | Visits to Quarzazate & Ksar Ait Ben Haddou, 2 "camel" rides across the shifting sand dunes of Erg Chigaga, dinner & breakfast, 1 night in a hotel, and 1 night at a desert campsite | Air-conditioned minibus, Visits to Quarzazate, Agdez, the Draa Valley, & Kasbah AitBenHaddou, 2 "camel" rides, dinner & breakfast, and 1 night at a desert campsite |
| | | | |
---
Quick Answer: The 5 Best-Marrakesh Desert Tours – [2021]
2-Day Desert Safari To Erg Lihoudi From Marrakesh
---
The best Marrakesh Desert Tours
#1. 3-Day Best Marrakesh Desert Tours To Merzouga
Go on a 3-day private tour from Marrakesh to Merzouga desert, And try then a Camel Ride tour because you will spend the night at an Erg Chebbi desert camp dunes. The Sahara desert remains one of the most places to visit on earth because of the beautiful dunes. Then view the stunning scenery of the Atlas Mountains rock formations of Todra Gorges, and enjoy the Berber culture strong enough to survive in one of the most extreme environments on the planet.
#2. Best Marrakesh Desert Tours To Erg Chigaga Dunes
Book the best private tours to Erg Chigaga dunes From Marrakesh in a 3-Days and drive then off-road to the best desert destination in Morocco Sahara desert. Get a glimpse of the Berber lifestyle during your time in Morocco on this desert tour. Explore then the Sahara desert on a private tour from Marrakech.
#3. 2-Day Desert Safari To Erg Lihoudi From Marrakesh
This private Marrakech tour to Erg Lihoudi desert camp is the best option to visit the desert dunes. These private tours from Marrakech keep then; the same spirit of all our Marrakech desert camp tour, and it will allow you to spend the night with our Berber team. 
#4. Best Marrakesh Desert Tours 2-Day Zagora
Book the best private 2-day Zagora desert tour from Marrakesh and spend one night in a comfortable camp at Zagora Sahara desert; On this highlight private 2-day Marrakech desert tour to Zagora, you will have the chance to see and visit many attractive places on the road, containing the sunshine Kasbahs such as Taourirt in Ouarzazate and Ait Benhaddou kasbahs.
#5. Best Marrakech: Half-Day Desert Quad & Dromedary Tour
---
Departure Point: Pick-up from your accommodation in Marrakesh
Departure Time: 9:30 AM, 3:00 PM
Duration: 4 hours
Includes: 1-hour dromedary ride, visit a Berber village, tea, 2-hour quad ride, all the necessary safety equipment for your "camel" and quad rides
Looking for the best Marrakech Quad bike tours on an exciting half-day guided biking? Are you ready for a change in scenery after you've visited Marrakech palaces and Souks? Here is our Marrakech quad ride in the desert Agafay or the palm grove. This half-day trip is the best Marrakech excursion for you, your family, and your friends.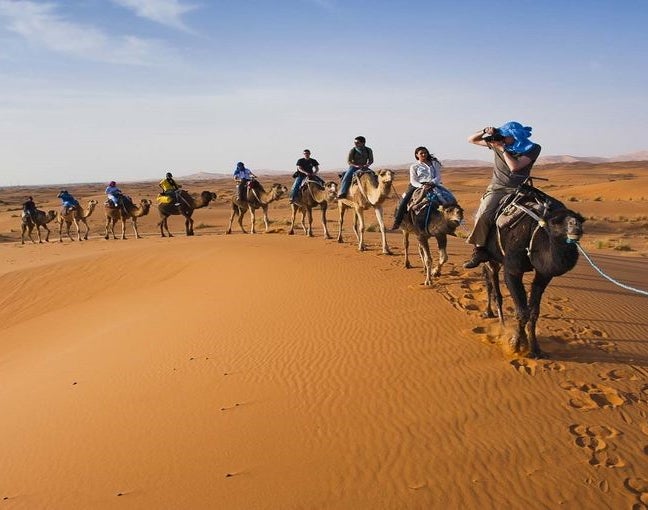 Here you can haggle with a Berber stall keeper over the price of a hand-woven rug, ride a camel into the Sahara Desert, take a tour into the snow-capped Atlas Mountains, and walk through the courtyards of a palace built for a Grand Vizier, his 4 wives, and 24 concubines.
But before you book your holiday, it's a good idea to fully research where you're going to stay, how you're going to get around, local restaurants, and attractions. That's the best way to ensure you get the most out of your visit, and I wrote this guide to will help you on your way.
Airports & Entry
Every year, tourists flock to Marrakech, arriving by airplane, train, or bus. Most international visitors opt to fly. If you are based in Casablanca during your vacation, you should note that flying from Casablanca to Marrakech is over 10 times more expensive than a train or bus journey. Inside Morocco, trains and buses are incredibly cheap.
Marrakech Menara International Airport (RAK) is a clean, modern airport that welcomes over 4 million passengers every year. If you're traveling from the US, you'll change planes in Casablanca, but there are direct flights from Paris and London.
The flight from Casablanca to Marrakesh takes around 50 minutes. RAK is super convenient for tourists because it's only 2 miles (a 15-minute taxi ride) from the Marrakech city center. But if you're staying in the Old Town, you will have a considerably longer journey.
Inside the 3 air-conditioned terminals at RAK you'll see the usual facilities you'd expect to find in any modern international airport, including ATMs, a bureau de change, duty-free shops, retail stores, and food outlets. There's free Wi-Fi for your convenience.
If you're religious, you'll be pleased to hear there's a prayer room where Muslims can retreat to perform their 5 daily prayers. For passengers with mobility problems, loaner wheelchairs are available. An airport clinic provides basic medical aid.
Getting from the airport to the city center is simple. The two recommended methods are by the hotel shuttle bus and taxis.
Planning Tips for the Best Marrakesh Desert Tours
When you arrive in Marrakesh, you most certainly aren't in Kansas anymore. Here are 5 tips to help you enjoy your time in Morocco.
Tip #1: Choose the best time you visit carefully
Because of the year-round sunshine and low rainfall, any time of year is a great time to visit Marrakesh. However, there are probably specific things you want to see and do, which may be better at certain times of the year.
Winter is when the Atlas Mountains are covered in snow, which makes for great photo opportunities. The weather is also especially cool for Africa, making it a great time to visit if you're not keen on the heat.
In spring, the melting snow results in amazing waterfalls at the base of the Atlas Mountains and beautiful flower displays in the many parks and gardens around the city.
Summer sees the major local festivals. However, the temperature grows hot, the streets get crowded, and there are a lot of unpleasant smells associated with heat and many people crammed into a small area.
Tip #2: Don't underestimate how much time you'll need to see everything in Marrakesh
Perhaps you only want to ride a camel through the desert or visit the famous Atlas Mountains, but there are lots to do and see around Marrakech.
Do your research before you go and don't miss out on the many interesting and unique attractions. Check the section on Attractions below.
Tip #3: Book the best Marrakesh tours in advance
Marrakesh is visited by more and more tourists every year, and the number will increase as the new high-speed train service is opened.
It's a great idea to avoid possible disappointment by booking the best Marrakesh Desert Tours to Erg Chigaga or Erg Chebbi in advance before you get there. That way you won't miss out on your once-in-a-lifetime ride a camel across the Sahara Desert.
Also, reputable tour companies offer free cancellation if you change your mind a reasonable time before the tour begins, so you won't lose your money if you decide not to go. Check the cancellation policy with the tour operators when you book.
Tip #4: Be very cautious about hygiene
Do not drink tap water. I cannot emphasize this enough. I recommend you use bottled water to brush your teeth. Never take the ice in your drinks.
Use antibacterial hand wipes or gel after handling money, handling goods in the souks, or when you are eating out. Be especially discerning about street food.
Watch for the stalls local people frequent because they are likely the safest. Peel fruit before eating it. Washing the fruit's skin won't always work because the water might not be clean.
Tip #5: Cover up, especially ladies
Lots of the tourist brochures show men and women lazing around swimming pools in skimpy swimwear. While that may be appropriate within the walls of your raid or hotel, it most certainly will not be accepted out on the streets.
Morocco is an Islamic nation. Yes, it's a liberal Muslim country, but they still have stricter ideas about exposed flesh than you're probably accustomed to. If you're a lady and you step out of your hotel wearing a low-cut T-shirt and very short shorts, you will probably get some dirty looks.